Squirrel Removal
The most common species of squirrel encountered in the United States is the eastern gray squirrel (Sciurus Carolinensis). Like all squirrels, it is a member of the rodent family and, whilst cute to look at in its natural environment, it can be a real nuisance should it invade your home. Eastern gray squirrels are often found in domestic attics, finding cavities under the eaves in which to make their homes. Here at KRB Pest Control, we offer fast and effective squirrel removal services to customers across New Jersey.
Did you know?
We promise inspections within

24 hours

of you contacting us?
Squirrel Exterminator
Squirrels are great adapters, which is why they are such a nuisance. They have learned to thrive in an urban environment, chewing through small openings in the roofline (usually the soffit or gable vent) to gain access to the loft or attic. They bring in materials for building and lining their nests, many of which are lightweight and highly flammable, posing a serious fire risk. As they come and go from your property, they make a considerable amount of noise. Sometimes they will even fall down the chimney flue or into a wall cavity, becoming stuck and making even more noise as they try to escape.
Squirrels are notorious nibblers, chewing through almost anything with their sharp incisors – this includes timbers, drywall, insulation, and even power cables, creating another potential fire hazard. Like all rodents, squirrels urinate freely and leave behind droppings in your attic. Both leave behind a distinct odor that is not just unpleasant, but also a health risk, being responsible for cases of salmonellosis, tularemia, and leptospirosis in humans.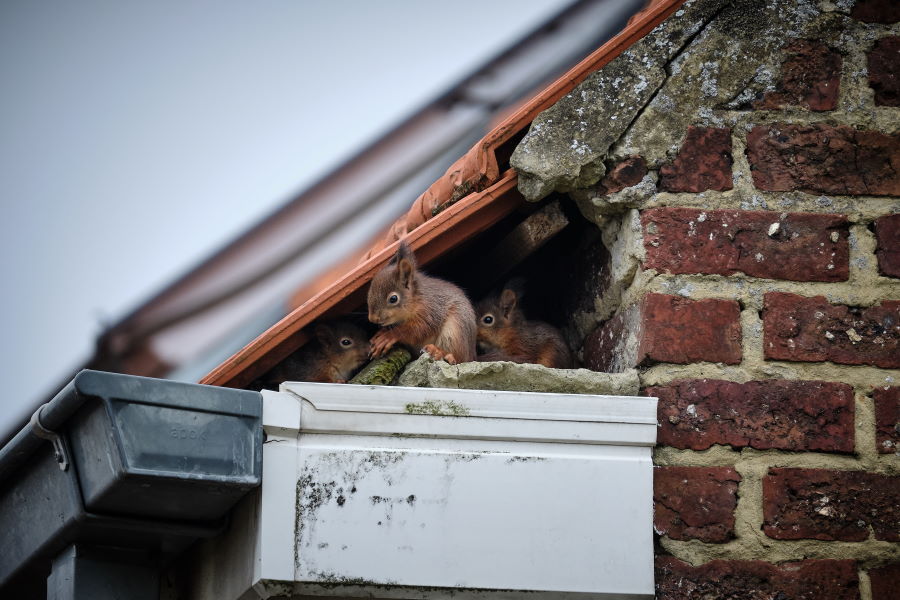 S. H.
"Phenomenal responsiveness and professionalism. From the office staff, to Edwin in the field. We will always call them when we need someone."
Susan P.
"Fast, reliable and honest company. Addressed my issue quickly. They really ensure the work is done right. Gabe is the BEST!"
Edwin C.
"After calling so many companies And nothing getting done the correct way. A friend told me about KRB Pest Control And now I have no issues."
Squirrel Control
If you have a squirrel in your attic, removal is the only practical option. While some squirrel pest control companies may try to sell you a wide variety of gadgets – everything from ultrasonic sound emitters to mothballs – none of these things work. As pest control professionals, we know the only way to get rid of a squirrel infestation is to trap them, remove them, and seal up any cavities to stop them from coming back.
Your Local Squirrel Pest Control Service
Based in West Orange, we help with squirrel removal from attics across New Jersey. Our experienced team covers Montclair, West Orange, Short Hills, The Caldwells, and Northern New Jersey, delivering a first-class service every time.
If you're concerned with squirrels in your attic and want them removed quickly and humanely, call KRB Pest Control today on (973)-669-8030 to arrange a free appointment with our team.
We provide quality service throughout New Jersey, including Montclair,
West Orange, Short Hills, The Caldwells, and Northern New Jersey.
Schedule an Appointment Today!
(973)-669-8030